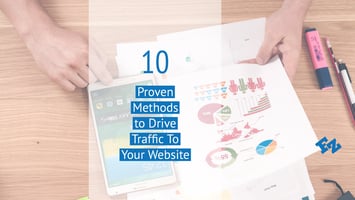 Are you looking to boost your website traffic or, do you need some tips to increase website interaction? Whether your site is designed for lead generation, eCommerce or simply an online portfolio, your website could use more visitors.
Here are 10 Methods to Drive Traffic To Your Website:
Use Social Media, Consistently
Use social media for two things:
Engage people and to bring them to your website. Share your content and competitions regularly to your fans and followers to encourage them to click and visit your website. After all, you own your website and its activity, whereas you don't own any social platform.
Be sure to social share any newly published posts too because the search engines look now at social shares on your content to help rate it.
Download our Guide on 'How to Monitor Social Media in 10 Minutes Per Day"
Digital Advertising
You can always pay to bring people to your website. Test Facebook, Twitter or LinkedIn ads with small budgets to see if people click and come to your website.
Ideally, you want to bring them to a great piece of content that offers value. Or consider working with influencers or partner websites that have your target audience on a paid basis. Make sure any campaign you run with them has clear objectives and is easy to track and measure so you know that it worked.
Offer Value
Create something free and then create a landing page that you can share on your social media and to your email list to bring people to your website. Whether it is a free eBook or a Webinar, offering something is a great way to draw attention to your brand.
Install Several Calls to Action (CTA)
When sharing on e.g. Facebook or LinkedIn, write the first part of your article, then have a 'Read More' link to your website so people have to click to read the rest of the article.
Run a Competition
Don't be tempted to give away stuff on social media, instead set up a form on your website to run the competition there. You can capture people's email addresses to enter them into a draw to win something. You don't have to give away a holiday to get entries, sometimes having more than 1 small prize results in more entries as people feel they have more chance to win.
Engaging Blog Titles
Spend a bit of time on your article's title. Make it enticing and appealing to your target audience. If you're struggling with your title or content, Hubspot offers a free Blog Idea Generator.
Write Targeted Content
This may seem obvious but make sure that you are writing targeted content that the right people want to read, i.e. the people you want to sell to.
-Who is your target customer?
-What pain points do they have in their life?
Write content that helps them or inspires them or makes them a better person. This type of content will bring them to your website when you share it on your emails or social media.
Download our eBook 'The 30 Greatest Lead Generation Tips, Tricks and Ideas'
Make Your Social and Website Content Visually Attractive and Consistent
There's a lot of noise online so pick appealing or eye-catching images for your content's lead image that make people take notice and want to click to read.
Consider adding titles to your lead image to let people see at a glance what the piece is about. At FZ Creative we started overlaying titles on our images and were able to increase our traffic from Social Media by over 60%.
Guest Bloggers Can Expose You to a New Network
Invite colleagues, clients or industry experts to guest blog on your website. This will give you great content but also they are likely to share when it's published. Alternatively, offer to guest blog for other websites as this could bring you traffic — just make sure the target audience is appropriate for your business.
Contact Your Email List, Consistently
Don't forget to use any databases you may have- minus the unsubscribers. So if you've written a great new blog post, make sure it goes on the next mailing you send. You can't expect people to remember to visit your website so give them a reason to visit by sharing your best content.
---
You can follow FZ Creative on Facebook, Twitter, and Instagram.
Check out our website: www.FZcreative.com