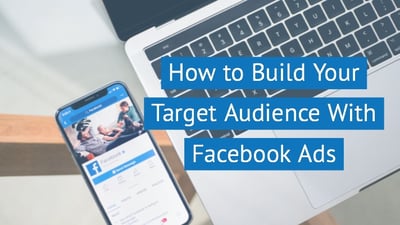 Today, Facebook is more specific than ever when it comes to helping businesses reach their target audiences. How you want your ad to be shown to the world can be easily customized based on location, age, gender, certain demographics, life events and more. Why wouldn't you take advantage of this effective tool to help better segment your consumers?
Take a peek at these helpful facebook ad tips to better build your target audience.
Reaching People Based on Their Location
Targeting users that are in certain locations is a great tool to reach a certain market. No matter where you hope to target, whether it be their country, region, county, town or city, Facebook can help. Beyond this feature, you can pinpoint exactly what other information you want to include such as an additional mileage amount, recently visited places and more. This type of targeting allows for businesses to offer specific deals based upon geographic location, while also designing an ad campaign that they can relate to.

Targeting Consumers Based On Demographics
Help narrow down your audience selection by targeting user demographics. From specific ages, to certain genders, marital status, education and more, this is a great tool to refine your audience. Use these traits to understand your audience better. Are these people engaged with your posts? Is this who you intend to cater your products, services or promotions to? You are able to get as specific or as unspecified as you want.

Using Recent Life Events
People post all the time various life events, from getting engaged, to expecting a baby, to starting a new job or celebrating a birthday. Whatever type of business you are advertising from, these life event targeting options can ensure you are reaching the right people. From a jewelry store offering a special offer on engagement rings to a venue offering a discount on parties, use this tool as a way to target these specific events more efficiently.

Targeting Based On Interests
Facebook users "like" pages, connect to Facebook using certain apps and follow celebrities, bloggers and bands they're interested in. While it helps users see more of the content they want, it also helps businesses reach them better. If you are a restaurant or organic foods supermarket that hopes to increase engagement, you can specifically target consumers who like eating or cooking using fresh, sustainable ingredients based upon the pages and people they follow. This promising feature helps connect business to consumer while taking advantage of interests across Facebook users.


From locations to demographics, life events and interests, determine how best you are able to reach your audiences using these targeting options. What is your ideal market? Who do you want to reach the most? Knowing the characteristics of your audience can better help you reach them when creating that successful ad campaign.
---
Click here to arrange a FREE Web Presence Consultation with an FZ Web Design Expert, or send us an email at Patrick@FZcreative.com. You can also follow FZ Creative on Facebook, Twitter, and Instagram.
Check out our website: www.FZcreative.com